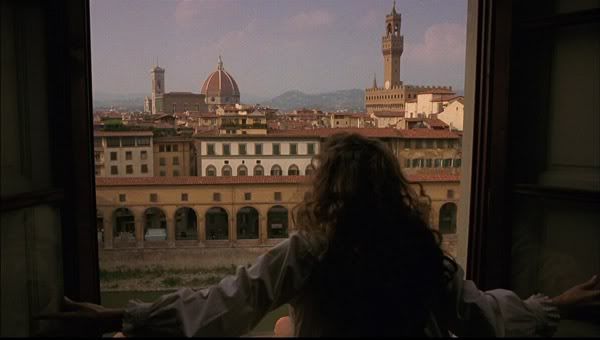 There's nothing like a classy Merchant Ivory film about genteel manners in the early 1900's on a Sunday night. Surprisingly enough, this was actually my first viewing of a film by the iconic director James Ivory.
A Room With A View
is an adaptation of the classic 1908 novel by E.M. Forster, one which I have yet to read.
The plot of this film revolves around Lucy Honeychurch (Helena Bonham-Carter) and her relationships with two different men. Ivory crafts a tale with such subtle sexuality and romance that the viewer is on the edge of their seat for the entire 117 minutes. At the beginning of the film, Lucy is vacationing with her older cousin, Charlotte (Maggie Smith) who feels like it's her job to educate Lucy on how a young woman should behave. Lucy quickly grows tired of the social constrictions of her cousin, and ventures off in Florence on her own. She meets George Emerson (Julian Sands), a young man staying in the same hotel.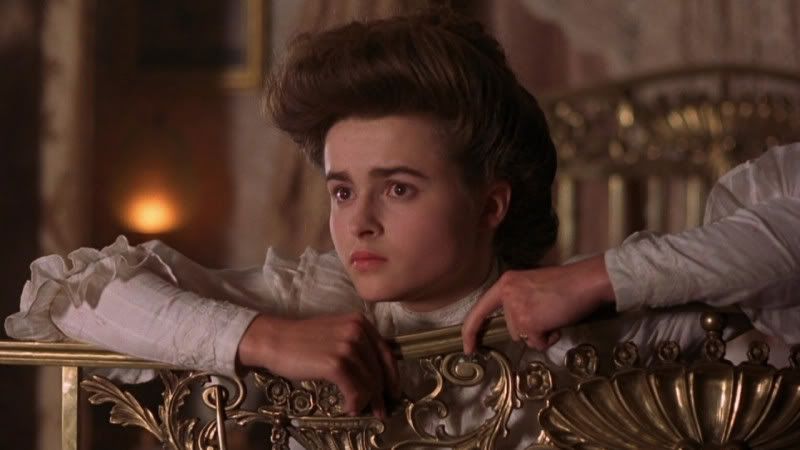 Chemistry between the two quickly builds, just as Lucy returns to England. Interestingly enough, she is engaged to a Cecil (Daniel Day-Lewis), an uptight aristocrat. As the love triangle unfolds, Lucy's pristine upbringing will be put to the test, as she goes on a journey filled with deception to be with the man she truly loves.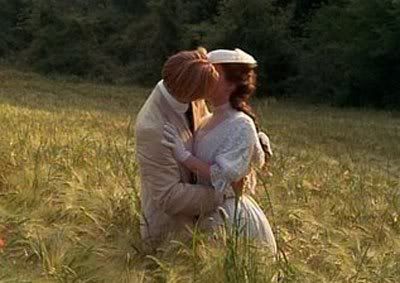 The cinematography in this film is strikingly beautiful. One of the more comical aspects of the film is how large Helena Bonham-Carter's hair can get. This was the earliest work of Bonham-Carter's that I have seen, and she was fantastic. The chemistry shared between her and Sands is truly spectacular. Their first kiss, as seen above, in the grain field is explosive and full of raw passion. While the film is not about the physical relationship between the three characters, through the use of suggestion, Ivory is able to achieve something even more sexual. This film examines the origins of passion, in a way that modern filmmakers rarely explore. Most films today would have focused on the sex shared between the characters, but as this is a period piece, the film explores the inner feelings of Lucy as she decides between Cecil and George.
A Room With A View
is a film that empowers it's female protagonist in a way that other works at that time feared to do. Lucy is a truly modern woman, capable of making her own decisions and defying the conservative norms of the time by falling in love with George, a man who gives little notice to the strict manners of the women around him. Lucy's disregard for the conservative attitude of the women in her village sets her apart from them. George, in turn, is a man of passion, a man who is unafraid to show just how much he cares about Lucy. The few kisses that are seen on screen between the two convey more meaning and lust than any sex scene of recent memory.
In closing,
A Room With A View
is a romance for the ages, one that can be enjoyed time and time again. It's a film that showcases how love can overcome any obstacle. With vibrant cinematography, beautiful locations, and great acting,
A Room With A View
is definitely worth watching!