There has always been a debate about whether it was
Psycho
(Hitchcock, 1960) or
Peeping Tom
(Powell, 1960) that gave birth to the slasher genre. For me, although I am a bit biased
, Psycho
has always been the stronger of the two. As the "penultimate" Ultimate Woman of Horror, Janet Leigh epitomizes the unlikely victim.
Leigh's career prior to working with Hitchcock was primarily sweet-hearted innocent roles that helped build her good girl image that defined her as an actress. It is with this irony, that screenwriter Joseph Stefano and Hitchcock built the entire first act of Psycho on. The audience assumes that they will be following Leigh's Marion Crane through the entire narrative.
As Marion goes from the somewhat innocent secretary to the woman on the run, the transition of her character is complemented by the change from her white undergarments to black.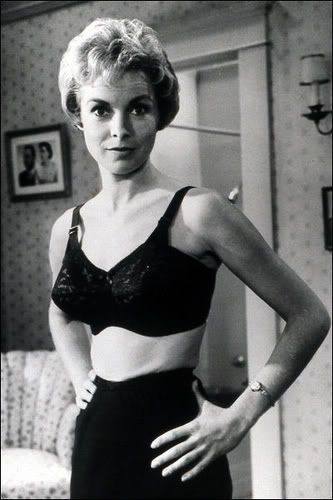 Leigh may be considered innocent prior to her theft of the large sum of money from her place of employment, but she is in fact in an adulterous relationship with Sam Loomis (John Gavin). This entire plot line is abandoned once she checks into the Bates Motel. Here, after having an oddly casual conversation and meal with Norman Bates (Anthony Perkins). The unexpected murder of a film's alleged star was something that had never been done before, and left an intense sense of uneasiness with the audience.
Leigh is the mother of Jamie Lee Curtis, the legendary final girl from Halloween (Carpenter, 1978) and the two appeared together in The Fog (Carpenter, 1980) and Halloween: H20 (Miner, 1998). Leigh's legendary performance in Psycho is celluloid perfection and will live on in the film history books as one of the finest female characters in the horror genre.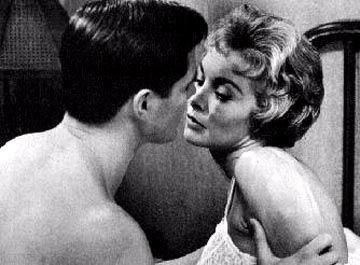 The whole month has led up to this: there is just one final Ultimate Woman of Horror left. The suspense is probably killing all of you, so check back tomorrow, for the final revelation. And, a Happy Early Halloween!