Now some of you are probably thinking that this choice may be a bit hypocritical, seeing as I placed a good bit of doubt in the Burton adaptation of
Dark Shadows
yesterday. And there may be a bit of truth in that, but regardless, today the Ultimate Woman of Horror is Miranda Richardson from
Sleepy Hollow
(Burton, 1999).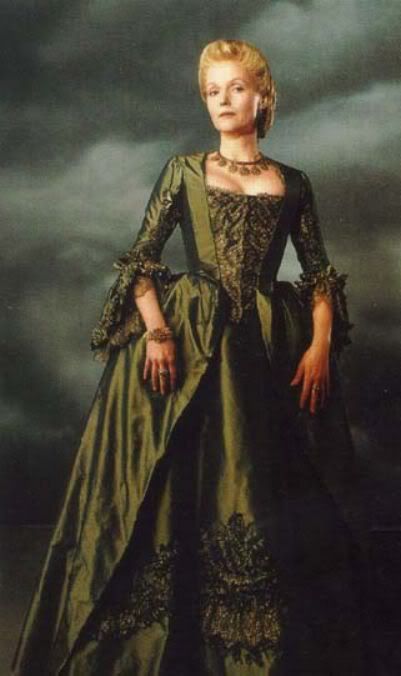 Sleepy Hollow may not be the best horror film of all time, but it is one that contains a decent enough plot, likable characters, interesting villains, and cinematography that is to die for. The visuals alone are worth the respect of the viewer. In fact, an entire chapter of my undergrad Intro. to Film course text book analyzed this film. Richardson's Lady Van Tassel steals the show here, and even outdoes the horseman himself. That is a true feat, seeing as the horseman is played by the excellent Christopher Walken.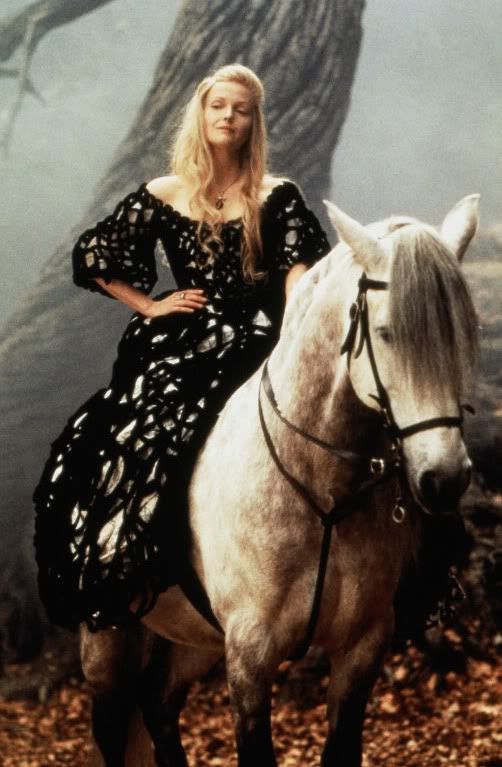 Here is a woman so villainous, that her calling of the horseman endangers, and ultimately kills, the majority of the Sleepy Hollow townspeople. It's always fun when the most glamourous women on screen turn out to be the villain. With her intricate and ornate costumes, Richardson outshines Christina Ricci and adds a level of class to the film. Richardson is one of my favorite actresses, and truly shines in every performance she is given. Even in her few minutes on screen in Paris je t'aime (2006), Richardson is able to embody such intense emotion that it is heartbreaking to watch. It is wonderful to see her in such a fun role as Lady Van Tassel, where she gets to prove that she can be as campy and glorious as we expected.
With the exception of Sweeney Todd: The Demon Barber of Fleet Street (2007), Sleepy Hollow marks the peak of Tim Burton's creative legacy. That's not to say that I didn't enjoy Charlie and the Chocolate Factory (2005), but with the release of Planet of the Apes (2001), Burton as we know it started to slowly wane as the creative genius we had come to know and love leading to the travesty that was Alice in Wonderland (2010). Hopefully with Dark Shadows, Burton will be able to reinvigorate his career. If Sweeney Todd is any proof, there is still hope and a great deal of it. So, Tim Burton, here's to you. Over the past 20 years, you have given us one incredible filmography, filled with honorable heroines played by wonderful actresses. Winona Ryder, Christina Ricci, Helena Bonham Carter, Michelle Pfeiffer, and Jessica Lange all delivered exceptional performances and truly enhanced your films to their potential. With Big Fish (2003), Edward Scissorhands (1990), and Batman (1989) in mind, let's hope that Burton will be able to return to his roots and give us the Dark Shadows film that we have been waiting for.
And just for the heck of it, here's another wonderful picture of Miranda Richardson in all of her glory as Lady Van Tassel.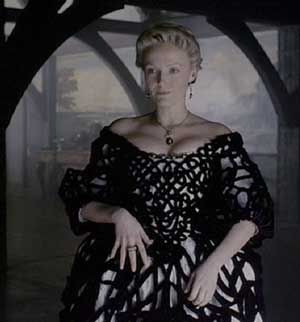 Check back tomorrow for another exciting addition to the Ultimate Women of Horror!