It's time for another exciting addition to the Ultimate Women of Horror! Today's honor belongs to Rebecca De Mornay as Peyton Flanders in
The Hand That Rocks The Cradle
(Hanson, 1992).
At first glance, Rebecca De Mornay may not look like the villainous woman that is trying to take your children away from you. She looks like the very attractive and pleasant woman that lives down the street from you. Welcome to the world of Yuppie Horror. This small sub-genre of the horror genre is one that is responsible for some of the most fascinating villains in the area's history. Among them Christian Bale in
American Psycho
(Harron, 2000). This particular field of horror features that are upper middle class or part of the incredibly wealthy elite.
The Hand That Rocks The Cradle
revolves around the Bartel family, the average family next door, if you live in a very wealthy suburb, that is.
When Mrs. Bartel is sexually assaulted by her doctor, she tells her community about it. Soon after, the doctor kills himself, leaving his wife and unborn child behind. After losing said child as well, the wife takes on the name of Peyton Flanders and decides that revenge is the only possible route to take. She infiltrates the Bartel household as a nanny, with only one thing on her mind: stealing their infant for herself.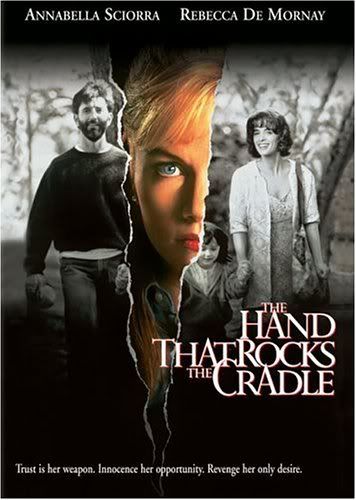 This film features some very disturbing scenes and should not be missed. It features a very early performance by Julianne Moore that is very enjoyable and proved that she had great things in her future. (I'm looking at you
Boogie Nights
and
The Kids Are All Right
, not you
Hannibal
.) De Mornay concocts a new recipe for crazy and disturbed that works perfectly for this character and adds a layer of intensity to the film. One of my favorite (and lighter) scenes in the film is when she confronts one of the bullies at the school of little Emma Bartel, and scares the crap out of the kid.
This film is not one that normally comes to mind when you think of the horror genre, so I feel that it is definitely worth a look to those that have not seen it. De Mornay proves to be an interesting villain, one who can hold her own against every other character in the film.

Stay tuned tomorrow for more exciting women of horror...