When I started this project last year, I never thought of including fun performances in awful movies. So, appropriately, this year, I have included a few of my favorite actresses from horror films that provide more laughs than scares. Today is no different. Sigourney Weaver's portrayal of Lady Claudia Hoffman in
Snow White: A Tale of Terror
(Cohn, 1997) is very entertaining and gives a sense of horror royalty to the film.
Released a few months before the critically panned Alien: Resurrection (Jeunet, 1997), another favorite of mine, Snow White created a world in which the evil queen was even more villainous and evil than we remember from the Walt Disney classic. Cohn's film may amount to little more than a late night fun viewing, but what more can you ask for? The scene in which Lady Hoffman sings in front of a large hall of guests, voice dubbed by some unknown operatic singer, is one of the highlights of this little gem of a film.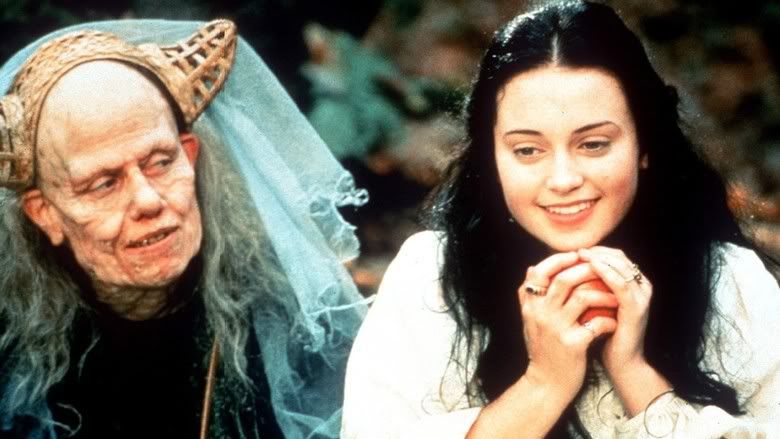 Weaver has always been one of my favorite actors, and I am almost to the point where I can forgive her for being involved in Avatar (Cameron, 2009). As she is usually the heroine in her films, it is fun to see her as the vile step-mother here, make-up, fake teeth and all. I remember passing this one on the rack at Hollywood Video for years and always wanting to give it a go, and finally a few summers ago a group of friends and I did. And we were not disappointed.
If you're looking for a fun horror film, cast aside the traditional choices of the field and give this one a try. It's truly strange, badly written, not scary in the least, but I wouldn't have it any other way!
Check back again tomorrow for another Ultimate Woman of Horror!